9 November 2021 - Landsbankinn
Please note that minor changes are set to be made to the website that appears when Visa cardholders are asked to confirm online purchase with code.
The changes will apply as of Wednesday, 10 November 2021.
When a cardholder uses a card to pay for goods or service with an online merchant who uses Verified by Visa, a website appears, asking the cardholder to enter a secure code. The secure code is sent by Valitor via text message. The process is otherwise the same as before.
As of Wednesday evening, 10 November, the website will look like this: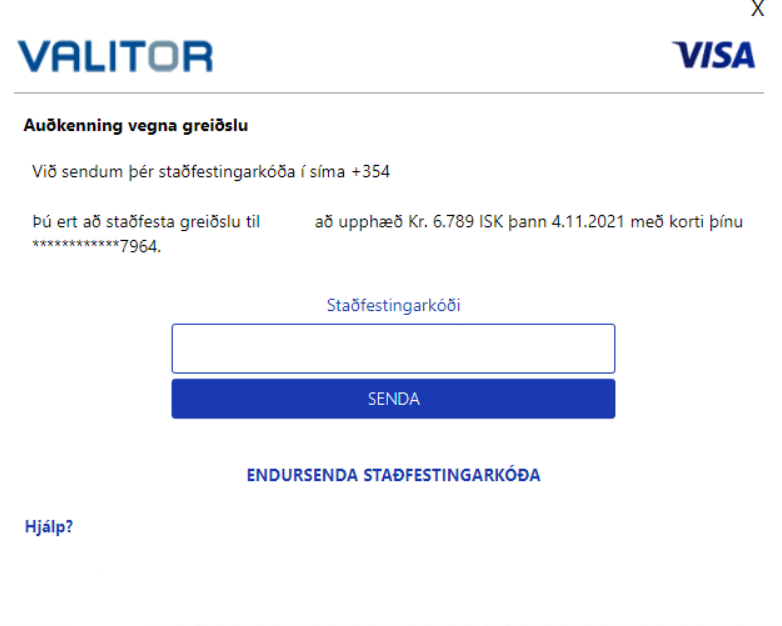 It is vital to read carefully all messages from payment card companies, your bank or others, especially as regards online shopping. We have posted accessible information on cybersecurity here on Landsbankinn's website (in Icelandic).
Further information on Valitor's website (in Icelandic)
You may also be interested in
Landsbankinn changes interest rates
Variable interest rates on non-indexed housing mortgages increase by 0.70 percentage points (pp), to 5.40%. Fixed rates on new non-indexed housing mortgages increase by 0.10-0.15 pp. Interest rates on indexed housing mortgages do not change, neither variable nor fixed rates. 
Changes to the login process for online banking and the app
As of 10 May 2022, customers who use a username and password to log in to online banking or the app will be required to authenticate the login activity with a security number texted to their phone. This is because of new rules on payment services. We encourage you to make an appointment to activate simpler login as soon as possible.
Warning against smishing attempts
Please be on the lookout for smishing attempts that ask the recipient to update their security information using a link included in the message. Opening the link leads to a fake login page.
Інформація  для клієнтів з України - Information for Ukrainian customers
Creating a bank account is not complicated, even if you're new to Iceland. To become a customer, you first need an Icelandic identification number. We've published information about banking in Iceland and how to open a bank account to our website. This information is available in several languages, including English, Polish, Ukrainian and Russian.
Easter service - the app can come in handy!
We are closed over Easter. Remember that you can use Landsbankinn's app to resolve most matters. You can freeze your cards in the app and online banking if they are lost, stolen or misused. You can then re-open the cards if you find them again. Credit card holders have access to emergency service around the clock.
Aðalheiður Sustainability Manager at Landsbankinn
Aðalheiður Snæbjarnardóttir has advanced to become the first Sustainability Manager of Landsbankinn. Aðalheiður has worked in the field of sustainability at the Bank since 2019. The new position of Sustainability Manager is intended to sharpen the Bank's focus on sustainability which is growing in importance and becoming an ever larger part of our work. Aðalheiður will continue to work closely with other staff from across the Bank, such as in Finance & Operation, Corporate Banking, Risk Management and in product development.
Landsbankinn changes fixed rates on housing mortgages
Fixed rates on new non-indexed 36-month housing mortgages increase by 0.35 percentage points (pp) and fixed rates on new non-indexed 60-month housing mortgages by 0.25 pp. Fixed rates on new 60-month inflation-indexed housing mortgages decrease by 0.40 pp.