Companies applying for loans at Landsbankinn can now request to be issued the Bank's Sustainable Financing Label. To receive this label, the financed project must meet the sustainability criteria of the Bank's Sustainable Finance Framework and fall into one of the project categories in the framework. Projects which fall under the scope of the framework include switching public transport to renewable energy, renewable energy production, certified sustainable fisheries, eco-friendly buildings and social development projects.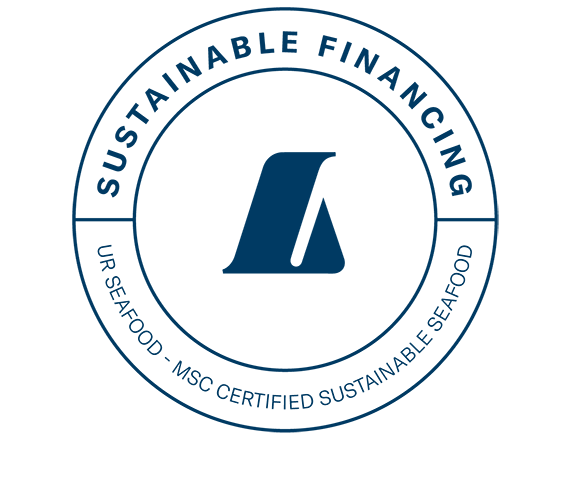 Árni Thór Thorbjörnsson, Managing Director of Landsbankinn Corporate Banking:
"The Sustainable Financing Label lets our customers show that they have consideration for the environment and society in their operation. UR Seafood has long worked towards sustainability in its operation, and successfully so. We are pleased to issue UR Seafood the Bank's Sustainable Financing Label for MSC certified sustainable seafood. The aim of our Sustainable Financing Label is to support customers on their sustainability journey, which is profitable for business in the long term. We at Landsbankinn are no less eager to do our bit for the climate and can be most effective through our lending and investment activity."
Runólfur V. Guðmundsson, CEO of UR Seafood:
"We at UR Seafood are extremely proud to have achieved Landsbankinn's Sustainable Financing Label for our funding. This achievement is even more meaningful in light of the mutual respect and trust that has characterised our business with the Bank throughout the years and encourages us to continue working towards meaningful goals."
You may also be interested in
Amaroq Minerals Capital Markets Day
The Amaroq Minerals Capital Markets Day will be hosted in Landsbankinn's new headquarters at Reykjastræti 6, Friday 2 June, at 9:00-11:00. The event, which will be held in English, will also be live streamed.
Shorter fixed term and higher interest on inflation-indexed savings
Landsbók is an inflation-indexed account suited to customers looking for the best method of maintaining the value of their savings. We now offer a shorter fixed term on deposits to inflation-indexed account Landsbók, or 11 months instead of three years previously, and pay out deposits 31 days after withdrawal orders. Following the 11-month fixed term, deposits are always free for withdrawal with 31 days' notice.
Landsbankinn changes interest rates
Following the recent interest rate decision of the Central Bank of Iceland, changes will be made to Landsbankinn's interest rates. Interest rate changes also have regard for market rates and other funding terms of Landsbankinn. The main changes are as follows:
Thanks for attending our Financial Forum!
We appreciate the good attendance at our most recent Financial Forum: Finances and Career, as well as the lively participation in discussions about young adults in the labour market that followed.
New version of Landsbankinn's General Terms and Conditions
We have published a new version of the Bank's General Terms and Conditions. The Terms apply to business transaction between Landsbankinn and its customers, both private and corporate. In addition to the Terms, contract provisions, other terms and rules may apply to specific products or services provided by the Bank.
Financial forum for young adults
Landsbankinn invites young adults who are taking their first steps in the job market to attend a seminar in the Bank's new headquarters at Reykjastræti. 
Landsbankinn maintains low impact rating in Sustainalytics' ESG risk rating
Landsbankinn has received an updated ESG risk rating from Sustainalytics, maintaining its negligible risk position with a rating of 8.5 on a scale to 100. This means that Sustainalytics considers the Bank at negligible risk of experiencing material financial impacts from environmental, social and governance factors (ESG).
Simple to share access to finances in the app
You can now use Landsbankinn's app to grant others view access to your finances or authority to carry out various transactions on your behalf. Cancelling access authorisations is also easy.