The text messages, which are in English, ask the recipient to confirm their mobile phone number by clicking on a link that takes them to a fake landing page, designed to look like Landsbankinn online banking.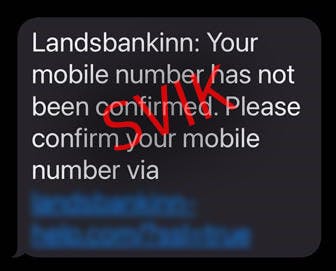 Landsbankinn never sends text messages or emails asking recipients to log on to online banking. On our website, we've posted an article about how to spot the difference between fake and real messages (in Icelandic).
You may also be interested in
Landsbankinn in Þórshöfn moves
Landsbankinn's outlet in Þórshöfn has moved to Kjörbúðin's facilities at Langanesvegur 2. The Bank's services and opening hours remain unchanged and the ATM is accessible during Kjörbúðin's opening hours.
The Icelandic króna depreciated in August
The Icelandic króna depreciated against the currencies of our main trading partners in August. At the end of the month, the euro stood at ISK 149.6, compared to ISK 146.9 at the end of July. The CBI intervened two days in August, selling euros both days.
Some RSA tokens expire
Customers whose tokens have expired may experience difficulties executing payment. If you get an error message when attempting to confirm a payment with your RSA token, it is likely that the token has expired.