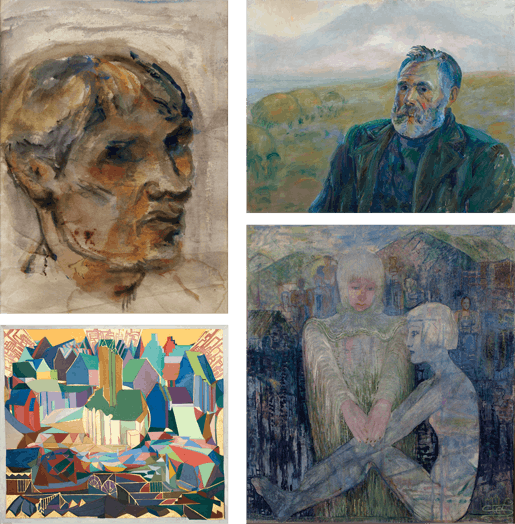 Landsbankinn has opened an exhibition of 24 pieces from its collection by Jóhannes S. Kjarval. The exhibition is located in the Bank's Austurstræti 11 branch and is open during office hours.
One of Kjarval's first projects upon returning home to Iceland from Denmark in 1920 was to paint portraits of the first four CEOs of Landsbankinn. He was subsequently commissioned to create the murals featuring the fisheries heritage in Iceland on the second floor of the new building, constructed in the wake of the Great Reykjavík Fire of 1915. Throughout his lifetime, Kjarval was in regular contact with the Bank, both as a customer and on a personal level, for a time making his home in Austurstræti, across the street from the Bank. In time, Landsbankinn amassed one of the largest private collections of Kjarval's work in existence, totalling over 70 pieces.
Following the Kjarval exhibition, further exhibitions will be arranged, featuring key pieces by Icelandic artists in the Bank's collection as part of the series Gallery Landsbankinn: Visual Arts Legacy.
Curator is Aðalsteinn Ingólfsson, art historian.
About the artist
Jóhannes Sveinsson Kjarval (1885-1972) was without doubt Iceland's most revered and unique 20th century artist. His artistic legacy is vast and encompasses landscapes, visionary paintings and figurative works, all of which tends to merge in huge and complex paintings. In Kjarval's visionary work he is inspired by local myths, folklore and poetry, and his expressive landscapes did much to change the attitude of his countrymen towards the harsh and forbidding Icelandic highlands.
While Kjarval can be called the most "Icelandic" of local painters, he was not averse to borrowing and putting to good use in his work features from French impressionism and symbolism, cubist deconstruction of form and futurist experiments. Yet, even at its most derivative, his work is characterized by a very personal mood, by turns irreverent and elegiac. One of Reykjavík's largest exhibition spaces now bears the artist's name and regularly features his work.
You may also be interested in
Last day in Austurstræti
Today is the last day the Landsbankinn branch in Austurstræti 11 is open and the doors close at 16:00. All activities move to the Bank's new branch in Reykjastræti 6, which is already open.
Reception of Danish bank notes
Customers can buy Danish bank notes in Landsbankinn branches and ATMs throughout Iceland. We would like to advise customers that the Bank no longer accepts DKK 1,000 and 500 bills, nor any Faroe Islands króna bills. There are no changes to transactions in DKK 200, 100 and 50 bills. Cash transactions comply with the Act on Actions to Combat Money Laundering and Terrorist Financing. Tighter rules in Denmark limit the reception of bank notes by foreign banks and Landsbankinn is as a result no longer able to accept DKK 1,000 and 500 bills.
Landsbankinn Corporate Finance co-ordinated uplisting of Amaroq to the Nasdaq Iceland Main
Amaroq Minerals, under the ticker AMRQ, has now been listed on the Main Market of Nasdaq Iceland. In addition to listing on the Nasdaq Iceland Main Market, Amaroq's shares are listed on stock exchanges in Canada (TSX-V) and London (AIM). Alongside uplisting to the Main Market of Nasdaq Iceland, Amaroq has been delisted from First North Iceland. Amaroq Minerals is the first listed mining company in Iceland. The company holds a significant licence portfolio in Greenland and is engaged in the identification, acquisition, exploration and development of gold properties and other strategic mineral assets, pivotal to the energy transition. Landsbankinn Corporate Finance co-ordinated the listing process. We congratulate the staff and shareholders of Amaroq on the successful transfer of the company's listing.
Branch opening in Reykjastræti
The branch at our new headquarters in Reykjastræti 6 opens today. Cashier services are available from 10:00-16:00 and ATMs and other self-service equipment is accessible around the clock.
Sunna Ósk Friðbertsdóttir new Landsbankinn Compliance Officer
Sunna Ósk Friðbertsdóttir has taken up the position of Compliance Officer at Landsbankinn. Sunna completed a BA degree in law from Reykjavík University in 2008 and an ML degree from the same institution in 2010. She is a licensed securities broker and a recognised District Court Attorney. Sunna came to work for Landsbankinn as a lawyer in 2012 and has had various responsibilities, both in implementing legal requirements and related to daily operations. She has worked in Compliance since 2017 and been Deputy Compliance Officer since 2022. Compliance supervises and monitors Landsbankinn's compliance with internal and external rules and advises and educates on legal and regulatory demands relevant to the Bank's operation.
Landsbankinn changes interest rates
In light of the recent interest rate decision of the Central Bank of Iceland, the following changes will be made to Landsbankinn's interest rates. Interest rate changes also have regard for market rates and other funding terms of Landsbankinn.
Shorter opening hours in 7 branches - service hours remain unchanged
On 13 September, the opening hours of seven branches will be shortened by three hours and will as a result be 12:00-15:00. While general opening hours will be shorter, customers can still make appointments to visit these branches between 10:00-16:00 and book remote meetings until 18:00, meaning that actual service hours remain unchanged. ATMs are accessible around the clock in all these locations.