15 March 2023 - Landsbankinn
Electronic ID is now required in the confirmation process of payments made with payment cards on ecommerce platforms. Such payments were previously confirmed by entering a code texted to the customer's phone.
These changes are intended to enhance security in ecommerce transactions. SCA is performed using electronic ID.
When you use a payment card to pay in an online transaction, the following image appears: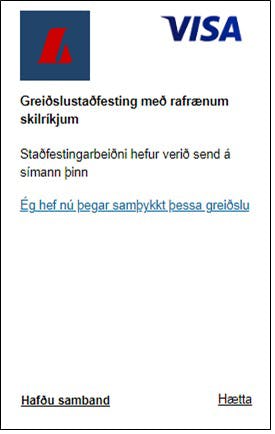 A verification request is then sent to your phone. It states the amount, currency and name of merchant with whom the transaction is undertaken. It is important to compare this information with the information shown on the online shopping forum. Once you have verified the details of the payment, you confirm it by entering the PIN for your electronic ID.
Note that you have to have the same phone number registered in online banking/the app as is linked to the electronic ID.
If you do not have electronic ID, please make an appointment to visit us in any local branch. We look forward to helping you.
You may also be interested in
Thanks for attending our Financial Forum!
We appreciate the good attendance at our most recent Financial Forum: Finances and Career, as well as the lively participation in discussions about young adults in the labour market that followed.
New version of Landsbankinn's General Terms and Conditions
We have published a new version of the Bank's General Terms and Conditions. The Terms apply to business transaction between Landsbankinn and its customers, both private and corporate. In addition to the Terms, contract provisions, other terms and rules may apply to specific products or services provided by the Bank.
Financial forum for young adults
Landsbankinn invites young adults who are taking their first steps in the job market to attend a seminar in the Bank's new headquarters at Reykjastræti. 
Landsbankinn maintains low impact rating in Sustainalytics' ESG risk rating
Landsbankinn has received an updated ESG risk rating from Sustainalytics, maintaining its negligible risk position with a rating of 8.5 on a scale to 100. This means that Sustainalytics considers the Bank at negligible risk of experiencing material financial impacts from environmental, social and governance factors (ESG).
Simple to share access to finances in the app
You can now use Landsbankinn's app to grant others view access to your finances or authority to carry out various transactions on your behalf. Cancelling access authorisations is also easy.
Payment card bills now issued by Rapyd Europe, not Valitor
Because of the merger of payment card companies Valitor and Rapyd Europe, VISA card bills will from here on be issued by Rapyd Europe and not Valitor as before. The merger has no other impact on customers. For further information on the merger, visit the website of Rapyd (previously Valitor)
Landsbankinn changes interest rates
In light of the recent interest rate decision of the Central Bank of Iceland, the following changes will be made to Landsbankinn's interest rate tariff. Interest rate changes also have regard for market rates and other financing terms of Landsbankinn. The main changes are as follows: