15 March 2023 - Landsbankinn
Electronic ID is now required in the confirmation process of payments made with payment cards on ecommerce platforms. Such payments were previously confirmed by entering a code texted to the customer's phone.
These changes are intended to enhance security in ecommerce transactions. SCA is performed using electronic ID.
When you use a payment card to pay in an online transaction, the following image appears: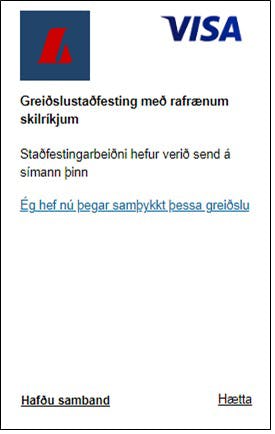 A verification request is then sent to your phone. It states the amount, currency and name of merchant with whom the transaction is undertaken. It is important to compare this information with the information shown on the online shopping forum. Once you have verified the details of the payment, you confirm it by entering the PIN for your electronic ID.
Note that you have to have the same phone number registered in online banking/the app as is linked to the electronic ID.
If you do not have electronic ID, please make an appointment to visit us in any local branch. We look forward to helping you.
You may also be interested in
What do you want to know about finance and banking in Iceland?
Landsbankinn invites to an open information session about savings, pension, mortgages and cybersecurity on Wednesday, 29 November 2023 at 18:00-19:00. The event will be held in the facilities of Íþróttafélagið Leiknir in Breiðholt, Austurberg 1, 111 Reykjavík. The session will be hosted in Polish.
No interest or indexation accrues to Grindavík housing mortgages for three months
In response to the uncertainty and natural disaster that has befallen Grindavík, Landsbankinn, Arion Bank and Íslandsbanki, working with the Icelandic Financial Services Association (SFF), have concluded an agreement to cancel interest and indexation on housing mortgages held by inhabitants of Grindavík for a period of three months. An agreement to this effect was announced yesterday evening, 22 November.
Response to the people of Grindavík under consideration
It is hard to imagine the uncertainty the people of Grindavík are currently living with. All of us at Landsbankinn are holding Grindavík in our thoughts. We are proud of our Grindavík branch and thankful for our many long-standing and valued customers in the community, both individuals and companies.
Safe-deposit boxes moved from Grindavík to Mjóddin branch
The safe-deposit boxes that were located in Landsbankinn's Grindavík branch were moved to the Mjóddin branch yesterday afternoon, Wednesday 15 November. There were around 150 safe-deposit boxes in Grindavík. The boxes will be accessible to customers as of tomorrow, Friday 17 November.
Information about banking services for the people of Grindavík
While our branch in Grindavík remains closed, we welcome all the people of Grindavík at any of our other branches. It's easy to book an appointment on landsbankinn.is and choose between a phone consultation, remote meeting or visit to any of our branches. Landsbankinn is present around the country. Current events could lead to loss of income for many people and the impact on local businesses is also considerable. We offer various solutions, both for individuals and companies. If you need assistance to use the Bank's services or want to review your financial situation, we encourage you to get in touch. Easy to defer mortgage payments Many of our customers in Grindavík have housing mortgages and they will all have the option to defer payments (postpone instalments). Please contact us if you wish to do so. You can book an appointment on landsbankinn.is or email us at landsbankinn@landsbankinn.is. Mortgage payments can be deferred for up to six months. It's quick and easy to apply and no fees will be charged to our Grindavík customers in this case. Safety-deposit boxes in Grindavík have been removed and are accessible in our branch in Mjódd, Reykjavík. The Bank's employees in Grindavík have, just like other inhabitants, been relocated to other towns and will continue their work for the Bank, in other branches or through remote work, depending on the situation. We are monitoring developments closely and will post further information here on our website. First published 13 November 2023, most recently updated on 16 November 2023.
Use Landsbankinn's app to transfer from accounts with other banks 
Landsbankinn's app can now be used to link to other banks and make transfers from bank accounts there. Customers who own bank accounts with multiple banks no longer need to log in to other banking apps because they can both view and transfer from their accounts directly through Landsbankinn's app.