Landsbankinn Asset Management has partnered with international asset management firm LGT Capital Partners.
LGT Capital Partners is a leading alternative investment specialist with over USD 60 billion in assets under management and more than 500 institutional clients in 37 countries. An international team of over 450 professionals is responsible for managing a wide range of investment programs focusing on private markets, liquid alternatives and multi-asset class solutions. Headquartered in Pfaeffikon (SZ), Switzerland, the firm has offices in New York, Dublin, London, Paris, Vaduz, Dubai, Beijing, Hong Kong, Tokyo and Sydney.
Wide variety of international funds
Landsbankinn brokers transactions on behalf of customers in foreign equities and bonds on all leading securities markets. The Bank also intermediates brokerage in foreign funds managed by renowned fund management companies such as AllianceBernstein, BlackRock, T. Rowe Price, UBS, Carnegie Funds and in foreign mutual funds managed by Landsbréf, Landsbankinn's subsidiary.
Tom Haas Carstensen, Executive Director, Head of Nordics, LGT Capital Partners. "We are pleased to be partnering with Landsbankinn. Their local experience and network enables us to introduce more investors to our investment capabilities. We are convinced that our experience in alternative investments, multi-asset solutions and the integration of ESG match the requirements of many investors in Iceland."
Kristín Erla Jóhannsdóttir, Head of Asset Management Services at Landsbankinn: "We are very pleased to add the funds of LGT Capital Partners to Landsbankinn's diverse selection of products on overseas markets, increasing our international investment objectives. One of the key positives of this partnership is LGT's knowledge and experience of assessing investment objectives with regard for sustainability. This is in line with Landsbankinn's Policy on Social Responsibility. In recent years, the Bank has been leading the effort to implement responsible investment."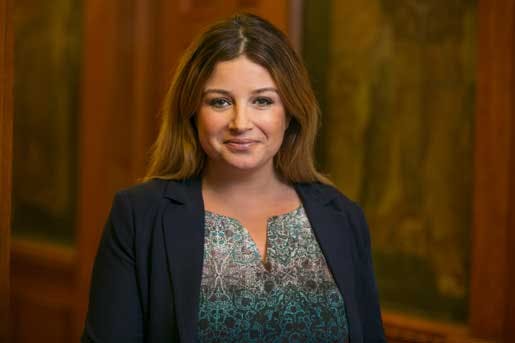 Kristín Erla Jóhannsdóttir, Head of Asset Management Services at Landsbankinn
You may also be interested in
New version of Landsbankinn's General Terms and Conditions
We have published a new version of the Bank's General Terms and Conditions. The Terms apply to business transaction between Landsbankinn and its customers, both private and corporate. In addition to the Terms, contract provisions, other terms and rules may apply to specific products or services provided by the Bank.
Financial forum for young adults
Landsbankinn invites young adults who are taking their first steps in the job market to attend a seminar in the Bank's new headquarters at Reykjastræti. 
Landsbankinn maintains low impact rating in Sustainalytics' ESG risk rating
Landsbankinn has received an updated ESG risk rating from Sustainalytics, maintaining its negligible risk position with a rating of 8.5 on a scale to 100. This means that Sustainalytics considers the Bank at negligible risk of experiencing material financial impacts from environmental, social and governance factors (ESG).
Simple to share access to finances in the app
You can now use Landsbankinn's app to grant others view access to your finances or authority to carry out various transactions on your behalf. Cancelling access authorisations is also easy.
Payment card bills now issued by Rapyd Europe, not Valitor
Because of the merger of payment card companies Valitor and Rapyd Europe, VISA card bills will from here on be issued by Rapyd Europe and not Valitor as before. The merger has no other impact on customers. For further information on the merger, visit the website of Rapyd (previously Valitor)
Landsbankinn changes interest rates
In light of the recent interest rate decision of the Central Bank of Iceland, the following changes will be made to Landsbankinn's interest rate tariff. Interest rate changes also have regard for market rates and other financing terms of Landsbankinn. The main changes are as follows:
Successful Financial Forum with university students
The first meeting in Landsbankinn's Financial Forum series was held in Stúdentakjallarinn at the University of Iceland on Wednesday, in collaboration with the University's Student Council. This first Financial Forum focused on the finances of young people, the real estate market and first-time buyers.