Landsbankinn Asset Management has partnered with international asset management firm LGT Capital Partners.
LGT Capital Partners is a leading alternative investment specialist with over USD 60 billion in assets under management and more than 500 institutional clients in 37 countries. An international team of over 450 professionals is responsible for managing a wide range of investment programs focusing on private markets, liquid alternatives and multi-asset class solutions. Headquartered in Pfaeffikon (SZ), Switzerland, the firm has offices in New York, Dublin, London, Paris, Vaduz, Dubai, Beijing, Hong Kong, Tokyo and Sydney.
Wide variety of international funds
Landsbankinn brokers transactions on behalf of customers in foreign equities and bonds on all leading securities markets. The Bank also intermediates brokerage in foreign funds managed by renowned fund management companies such as AllianceBernstein, BlackRock, T. Rowe Price, UBS, Carnegie Funds and in foreign mutual funds managed by Landsbréf, Landsbankinn's subsidiary.
Tom Haas Carstensen, Executive Director, Head of Nordics, LGT Capital Partners. "We are pleased to be partnering with Landsbankinn. Their local experience and network enables us to introduce more investors to our investment capabilities. We are convinced that our experience in alternative investments, multi-asset solutions and the integration of ESG match the requirements of many investors in Iceland."
Kristín Erla Jóhannsdóttir, Head of Asset Management Services at Landsbankinn: "We are very pleased to add the funds of LGT Capital Partners to Landsbankinn's diverse selection of products on overseas markets, increasing our international investment objectives. One of the key positives of this partnership is LGT's knowledge and experience of assessing investment objectives with regard for sustainability. This is in line with Landsbankinn's Policy on Social Responsibility. In recent years, the Bank has been leading the effort to implement responsible investment."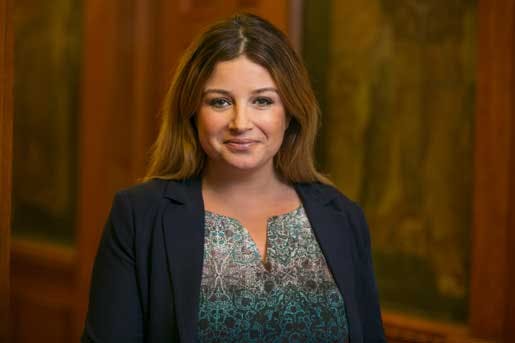 Kristín Erla Jóhannsdóttir, Head of Asset Management Services at Landsbankinn
You may also be interested in
Last day in Austurstræti
Today is the last day the Landsbankinn branch in Austurstræti 11 is open and the doors close at 16:00. All activities move to the Bank's new branch in Reykjastræti 6, which is already open.
Reception of Danish bank notes
Customers can buy Danish bank notes in Landsbankinn branches and ATMs throughout Iceland. We would like to advise customers that the Bank no longer accepts DKK 1,000 and 500 bills, nor any Faroe Islands króna bills. There are no changes to transactions in DKK 200, 100 and 50 bills. Cash transactions comply with the Act on Actions to Combat Money Laundering and Terrorist Financing. Tighter rules in Denmark limit the reception of bank notes by foreign banks and Landsbankinn is as a result no longer able to accept DKK 1,000 and 500 bills.
Landsbankinn Corporate Finance co-ordinated uplisting of Amaroq to the Nasdaq Iceland Main
Amaroq Minerals, under the ticker AMRQ, has now been listed on the Main Market of Nasdaq Iceland. In addition to listing on the Nasdaq Iceland Main Market, Amaroq's shares are listed on stock exchanges in Canada (TSX-V) and London (AIM). Alongside uplisting to the Main Market of Nasdaq Iceland, Amaroq has been delisted from First North Iceland. Amaroq Minerals is the first listed mining company in Iceland. The company holds a significant licence portfolio in Greenland and is engaged in the identification, acquisition, exploration and development of gold properties and other strategic mineral assets, pivotal to the energy transition. Landsbankinn Corporate Finance co-ordinated the listing process. We congratulate the staff and shareholders of Amaroq on the successful transfer of the company's listing.
Branch opening in Reykjastræti
The branch at our new headquarters in Reykjastræti 6 opens today. Cashier services are available from 10:00-16:00 and ATMs and other self-service equipment is accessible around the clock.
Sunna Ósk Friðbertsdóttir new Landsbankinn Compliance Officer
Sunna Ósk Friðbertsdóttir has taken up the position of Compliance Officer at Landsbankinn. Sunna completed a BA degree in law from Reykjavík University in 2008 and an ML degree from the same institution in 2010. She is a licensed securities broker and a recognised District Court Attorney. Sunna came to work for Landsbankinn as a lawyer in 2012 and has had various responsibilities, both in implementing legal requirements and related to daily operations. She has worked in Compliance since 2017 and been Deputy Compliance Officer since 2022. Compliance supervises and monitors Landsbankinn's compliance with internal and external rules and advises and educates on legal and regulatory demands relevant to the Bank's operation.
Landsbankinn changes interest rates
In light of the recent interest rate decision of the Central Bank of Iceland, the following changes will be made to Landsbankinn's interest rates. Interest rate changes also have regard for market rates and other funding terms of Landsbankinn.
Shorter opening hours in 7 branches - service hours remain unchanged
On 13 September, the opening hours of seven branches will be shortened by three hours and will as a result be 12:00-15:00. While general opening hours will be shorter, customers can still make appointments to visit these branches between 10:00-16:00 and book remote meetings until 18:00, meaning that actual service hours remain unchanged. ATMs are accessible around the clock in all these locations.